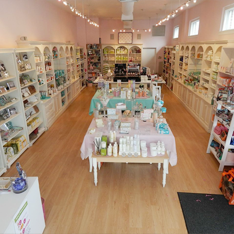 Imagine this:
You're walking down Palmer Avenue, swinging your shopping bags, listening to the pleasant sound of your heels clacking on the pavement.
The summer air caresses your skin like a delicate scarf. Suddenly you spot a covetable item in a storefront window. Your pace slows and you stop and stare.
What is it? A patterned aromatherapy candle from Votivo? A soothing scrub from Kiehl's? A charming set of cosmetic bags from Trina & Turk?

Store Hours: Mon - Sat 10 to 6pm
Well, whatever your personal care needs, you've come to the right place. At Pink on Palmer, we pride ourselves on our carefully well-edited selection of beauty and bath care items.
Inside our doors you'll find top sellers from Bella il Fiore cosmetics, Thymes bath and body treatments, Tweezerman and Frederic Fekkai.
Check out our line of Allykats nontoxic nail polishes for your daughter or niece. Stroll by the men's section and discover The Art of Shaving.
And when you're done, enjoy a complimentary makeover with consultants from T. LeClerc. (Psst: they offer eyebrow shaping, too!)
So what exactly was that gift you wanted from the window?
And now that you've picked it, why stop at one?